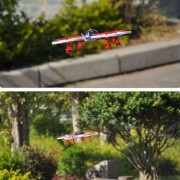 2016 is the year of the quadcopter and Syma RC Quadcopters are leading the way with excellent performing RC quadcopters for everyone at prices that can't be beat.
shenzhen, China, November 29, 2015 (Newswire.com) - Everybody knows that Syma RC quadcopters are some of the best on the market. They have long been a well-respected manufacturer of quality RC aircraft and they are continuously pushing the boundaries of what is possible. The Syma outlook for 2016 is looking great and they have some cool selections already available. Depending on price, features set, and application, there is definitely a Syma RC quadcopter that is a perfect choice for anyone. Here are a few of the best for 2016…
For those looking for and excellent entry to mid-level quadcopter, the Syma X13 2.4G 6 Axis Gyro 4 Channels RTF RC Quadcopter Mode 2 is an excellent choice. It can be flown both indoors and outdoors thanks to the extra flight stabilization delivered by its 4 channel, 6 axis control system that can perform ascending, descending, forward, backward, accelerate, turn left, turn right, sideways flying, and hovering. Even though it is great for beginners, intermediate pilots will appreciate its maneuverability and the fact that it can perform advanced movements such as 360 degree rollovers. This one is great for Christmas morning too because it takes only 70 minutes to charge up fully for flight. For beginners, the X13 is great to learn with due to its super stable flight characteristics and it's easy to fly anywhere.
For situations that require a little more power, such as flying outdoors in moderate wind conditions, the Syma X3 2.4GHz 4-CH 360 Degree Remote Control Quadcopter RC Helicopter UFO is a natural choice. It adopts a four-axis structure, which provides more flexibility and stronger wind resistance performance for flying indoor or outdoor and has a built-in gyro stabilizer to ensure a precise positioning in the air. Unlike many quadcopters, the X3 has a wrap-around structure that protects the propellers in case of impact, an extremely useful feature for outdoor flying and flying around other quadcopters. It's called a UFO for a reason, it can fly in 3D in all directions: up/down, forward/backward, turn left/right, and hover and in fact perform 360 degree 3D roll-overs. It is truly an acrobatic dream and a great intermediate level choice for any pilot.
Sometimes the smartest choice is to buy a quadcopter that can work for beginners, but has the ability to grow with a user's skill level. Such is the case with the Syma X3 4 Channel 2.4 GHz RC Quad copter with 3 Axis Gyro Remote Controller. The Syma X3 4-Channel Quadcopter brings a new element to radio control and a completely different flying experience; balance, control, and flips are ready as skill levels increase including continuous 360 rolls and3D stunt and tumbling functions. Even with performance like this, the X3 has super stable flight characteristics thanks to an adjustable gyro sensitivity that allows users to fine tune flight controls. Perhaps most importantly, the X3 has some special features that make it superb for flying outdoors at long distances and even when many other quadcopters are in an area, a situation that often occurs. When there are crowds in the air, the X3 uses spread spectrum technology with reaction speedsthat are 100 times faster than other radio controls,while maintaining the best anti-interference ability to avoid sending the wrong flight signals to the craft. This low power consumption system means that more RC aircraft can be flown simultaneously with no ill effects and also that remote distance can be greatly increased. For those that desire full aerobatics, anti-interference, and the best remote distance, the choice is clear, the X3.
For every occasion and every application there is a Syma RC quadcopter that is the perfect choice. In 2016, Syma is introducing some of their best quadcopters yet, and for those who don't want to wait, there are deals and discounts on now at Newfrog.com for the latest and coolest Syma gear.
Share: