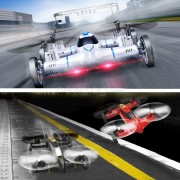 Syma raises the bar for RC toys with an ingenious combination RC car and RC quadcopter with full aerobatic capabilities and full 4CH 6-axis control.
shenzhen, China, December 14, 2015 (Newswire.com) - ​Nothing is hotter right now than RC gear and in the RC category, nothing can beat the fun and excitement of quadcopters. Their go-anywhere capability, simple learning curve, and low prices have made them the must-have toy for this Christmas season and beyond. Syma is a company that is leading the way in RC innovation and has been consistently producing some of the best RC gear on the market today. Lately, they have turned the industry upside down and thrilled consumers with their latest offering, the Syma X9 2.4G 4CH Fly & Drive 6-axis Gyro RC 360° Flip RC Quadcopter Flying Car. This fantastic combination of RC car and aerobatic quadcopter has been turning heads and impressing enthusiasts looking for the most unique quadcopter out there.
Maybe it is the typical 4 axis structure of quadcopters that made Syma consider adding 4 wheels when creating this wild configuration. Whatever the motivation, the result is one of the coolest and most fun pieces of RC gear to come down the pipeline in a long time. The X9 is a sturdy unit featuring a modular design that integrates a complete quadcopter into a fun, rear wheel drive RC car. The results are stunning. It is ready to roll, literally, right out of the box and the 2.4G remote controller makes it simple to drive while on land a using standard control layout. It has a sleek car body that was designed for aerodynamics both on the ground and in the air.
Finding room to run has always been a challenge with RC cars but with the X9 those kind of issues are a thing of the past…when the road runs out, the X9 can simply take to the air! It's quite amazing the first few times one see's the takeoff but after a few tries, this incredible ability becomes normal for this unique craft. In fact, unlike many quadcopters, the X9 has a throwing flight function that allows the user to simply throw the vehicle in the air and continue flying, a truly remarkable feat.
As much as the X9 is a capable land driver, the real fun begins when it takes to the air. It has a sophisticated 6-axis gyro which gives it incredible stability and easy flight maneuverability even for beginners. In fact, it can perform all acrobatics including 360 degree 3D flight, flips, and continuous rolls. These kind of advanced flight characteristics are often only found on quadcopters costing much more than the X9. These flight abilities make the X9 a perfect quadcopter for users who wish to gain skill in flying and acrobatics and it's truly an RC vehicle that can grow with auser's experience level.
One extremely useful feature that Syma included in the unit was a robust anti-interference controller unit. This system ensures that the signal from the controller to the unit will not be corrupted or interrupted by competing signals from other RC units that may be in the area. A welcome design for parks that may be hosting many RC vehicles, or for safe use while flying with others.
With the X9 2.4G 4CH Fly & Drive 6-axis Gyro RC 360° Flip RC Quadcopter Flying Car, Syma has really raised the bar for RC vehicles. Their clever combination of RC car and RC quadcopter is innovative, fun, and extremely well executed. It's clear that other companies will certainly follow their lead but for now, no other unit comes close to the capability, low price, and fun of the X9. It is highly recommended as this season's best, and sure to become and instant classic for RC enthusiasts everywhere. Check it out on Newfrog.com for big discounts and low prices on this year's hottest RC toys.
Share: