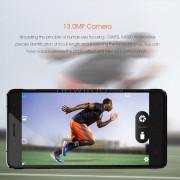 Put the power and performance of the Oukitel K4000 Pro in your hands for the cheapest prices ever offered -from $89.99 to $119.99 now until Mar 20th, exclusively at Newfrog.com.
shenzhen, China, March 4, 2016 (Newswire.com) - For those searching for an elite phone at a steep discount, the time has arrived. From Feb 25th – Mar 20th, the venerable Oukitel K4000 Pro is discounted to $119.99 at Newfrog.com. As if that weren't enough, Newfrog is going to sweeten the deal by releasing 5 phones every Thursday at 00:00 UTC at the unbelievable price of $89.99 for the lucky first buyers.
Deals on phones like this don't come along often so the Oukitel special savings event is really something to take advantage of. Oukitel has been quietly becoming one of the top phone brands around due to its unique combination of performance and price. One look at the Oukitel K4000 Pro and it's clear why.
The first thing who notices about the Oukitel K4000 Pro is that behind its beauty, it is built tough. The anti-drop arc designed metal frame has smooth round corners that feel great in the hand, while providing and 80% improvement in drop endurance. Toughness doesn't stop there either, it also uses an ultra-hard, scratch resistant 1.1mm glass screen, an improvement of up to .3mm over other phones. This carefully considered construction makes the K4000 Pro one of the most durable phones in the industry and perfect for those who live adventurous lives.
The tough and ready concept continues with the on-board battery, with an impressive 4600mAh capacity, the Li-polymer powerhouse is ready for business, travel, and extended use anytime. In fact, it can go 6 days under normal use with up to 80.5 hours of talk time before its time to hit the charger. When not in active use the numbers are even more impressive with up to 40 days of standby time. For those times when charging is necessary, the Oukitel impresses using an included 5V/1.5A quick charger to fully top off the battery within an incredible 3 hours. This phone is a certified powerhouse.
But power without performance is nothing, so the K4000 Pro is loaded with features. The Android Lollipop OS is fast and user friendly and has all the popular and trusted Android apps one would expect. It is world and network friendly too with 4G capability for lightning speed and crisp, clear connections. It even features OTG technology for hassle free data transmission between devices, something everyone can appreciate in these days of multimedia fun.
Everyone loves to capture spur of the moment photos with their phone and the Oukitel K4000 Pro 4g is well equipped for the task. It uses a 13MP rear camera that has advanced focusing for perfect images near and far in the daytime and nighttime alike, including a preview mode to make sure that the perfect shot was captured. For the selfie lovers out there, the front 5MP original Apple sensor camera will be essential. The built in effects can also be used to optimize and perfect the ever important selfie images.
Oukitel are masters of ergonomics and with that in mind they have created a powerful gesture control system that makes opening the phone or accessing common apps an effortless task. Simply designate a shape to an app or function and draw the shape on the front, the K4000 will do the rest, saving time and inconvenience.
It's not often that a phone this powerful is offered at a price like this and they will go fast during this event. Don't miss out on this Oukitel special savings event only at Newfrog.com, the best online shop for all mobile phones, gadgets, and more. Event time is from Feb 25th – Mar 20th 2016 and is going on now.
Share: